Controlled environment agriculture (CEA), also known as indoor farming, is a practice of growing produce in a closed ecosystem. It reduces the threat of pets & diseases, increases crop yield, and maximizes efficiency. It also helps to reduce the overall cost of operation. Automatic techniques such as robotics, software, and data science are employed within the controlled environment agriculture to control various farming factors such as light, humidity, temperature, nutrition, and carbon dioxide. Indoor farming helps produce more food in less space. It involves the usage of LED lighting and software.
FastMR Brief:
As per KD Market Insights Report, the Global controlled environment agriculture market is expected to grow at a CAGR of around 18.7% to reach approximately USD 172,164.64 Million during the forecast period 2022-2027.
Growing food demand across geographies is driving the growth of the controlled environment agriculture market. The food demand is expected to increase somewhere between 59% to 95% by 2050.
The area of land dedicated to indoor farming in the US and Canada increased by 5% yearly for vegetables and around 11% yearly for fruits from 2014 to 2019.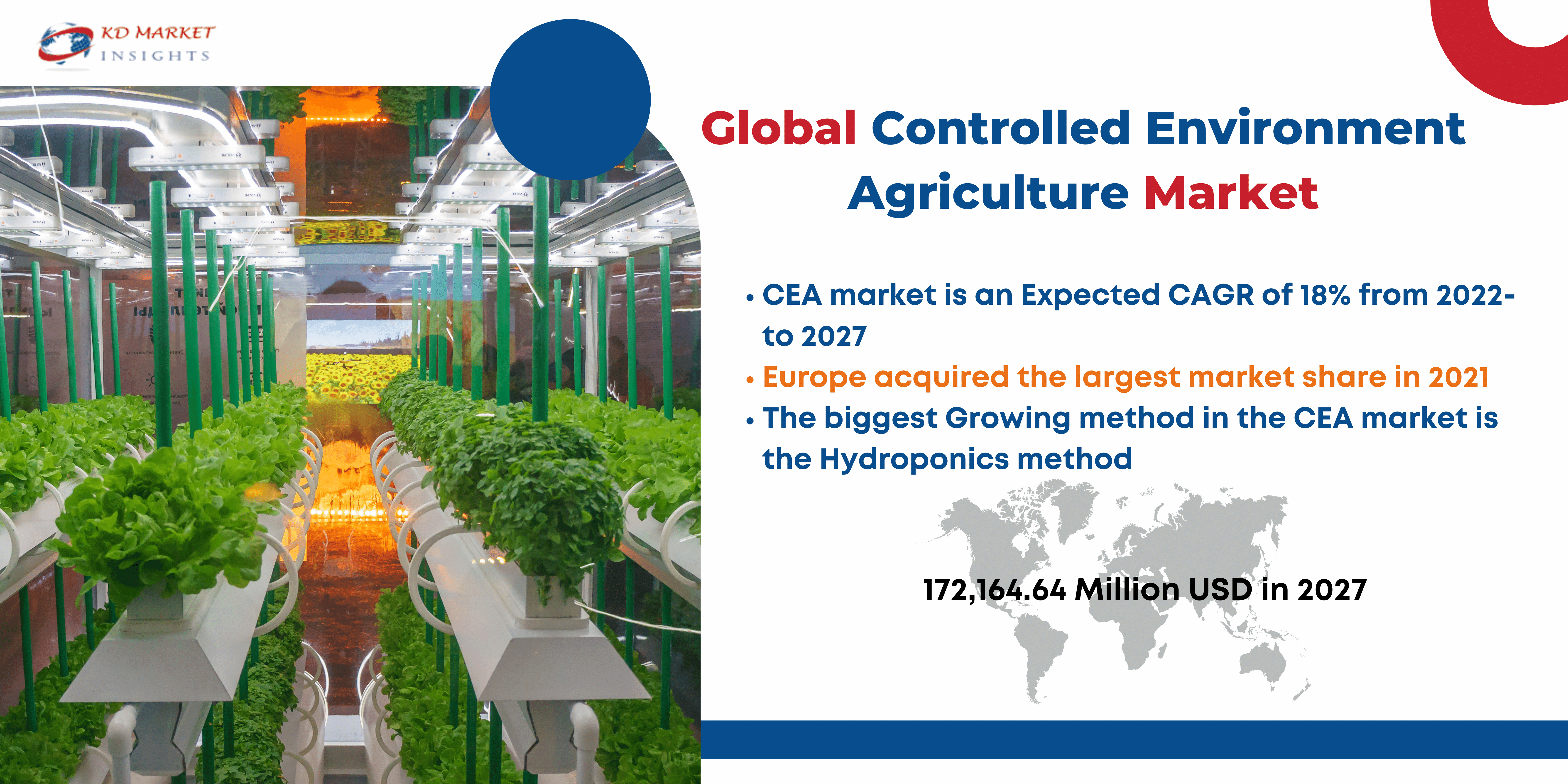 Controlled Environment Agriculture Market Insights:
The global population is expected to reach around 10 billion by 2050. With the increase in population, the demand for food is likely to increase and thus, result in higher demand for crop yield. The farmers are adopting new methods such as aeroponics, hydroponics, and aquaponics to improve their crop yield and enhance productivity. Consumers are demanding more and more healthy & nutritious food products due to diet and health consciousness.
Climate change, water scarcity, extreme weather, and rising global temperatures affect crop yields. For instance, the Brazilian state of Mato Grosso, the key agricultural region in the world, is likely to face an 18% to 23% reduction in soy and corn output by 2050 due to climate change. Additionally, countries such as Canada, China, and Russia will likely experience longer and warmer growing seasons in certain areas. 
Growing consumer preferences for agricultural products that are produced using sustainable farming practices and are organic is driving the adoption of the controlled environment agriculture market. Governments are also emphasizing taking initiatives supporting the production of organic produce. In May 2020, the European Commission launched its Farm to Fork strategy to reduce chemical pesticide use by 50%, fertilizer use by 20%, and nutrient losses by 50%.
The commonly used technologies in controlled environment agriculture include hydroponics, aquaponics, aeroponics, and others. Among these, hydroponics is the most prominently used technology in the market and is expected to be the most used technology in the coming years. This can be attributed to its superior benefits, such as enhanced productivity and high crop yield.
Some crops grown in controlled environment agriculture include tomato, peppers, herbs, cannabis, cucumber, and leafy greens. Tomatoes are the most produced crop under indoor farming practice.
The key components of the controlled environment agriculture market include lighting, growing media, nutrients, and others. Nutrients play a crucial role in enhancing crop yield. Nutrients held a majority share in the global market. 
Growing preference for organic and naturally produced fruits and vegetables among consumers coupled with rising health consciousness is a key growth driving factor in the market. Increasing consumer awareness regarding automated agricultural technologies, particularly in developing countries, is expected to create lucrative growth opportunities for the players operating in the global market.
The prominent trends and innovations in controlled environment agriculture include low-cost cooling technologies, automation, CEA software, and floating farming. Against the backdrop of sufficient space and degraded lands, many organizations and research institutes are using unused and abandoned areas for urban farming floating farms. The proper use of these lands can help to increase crop productivity. 
The global market can be segmented into regions: North America, Asia-Pacific, Europe, Latin America, and the Middle East & Africa. The market in Europe accounted for the largest market share. Spain and Netherland are the key countries driving the regional market growth. The high adoption rate of advanced technologies in the agriculture sector and the high demand for organic agricultural products are other important factors driving the regional market growth. The increasing use of modern farming practices in the US is bolstering the market growth in North America.
Although this farming practice helps to produce more than conventional farming practices, it also comes with specific challenges, which include high capital investment, the electricity required to power LED lights and software, and land. Buying a property in urban areas to build a vertical farm can be very expensive. In addition to this, rapidly growing urbanization and expanding industrialization are resulting in less area of land left for farming practices.
FAQs
What is the market size of the Global Controlled Environment Agriculture Market?
As per KD Market Insights Report, the Global controlled environment agriculture market is expected to grow at a CAGR of around 18.7% to reach approximately USD 172,164.64 Million during the forecast period 2022-2027